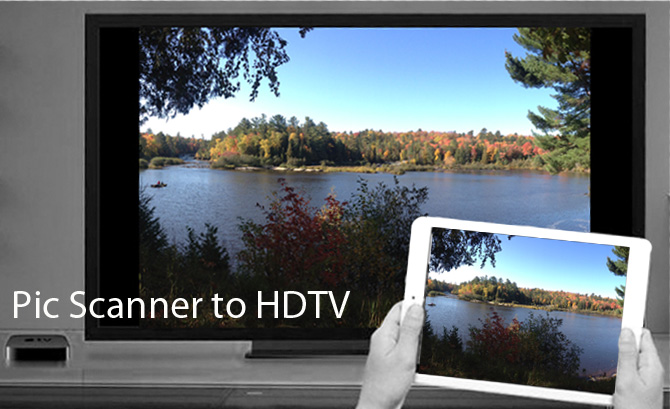 Scanned those precious old photos and put them in your iPhone, iPad or computer? Now supersize the experience of enjoying the memories by viewing those photos on HDTV.
Once you have scanned and edited the pictures to perfection, transfer them to Photos app on your iPhone or iPad as follows:
Cropped > Select > (tap photos to be transferred; they'll get check marked) > Action (bottom center) > Sharing options (Select Photos). This saves the selected photos in Pic Scanner album in Photos app (iPhoto).
There are many ways to project them on to your TV:
Method 1: If you have a smart TV, then it's straightforward to beam photos to it from your mobile device. Open the TV's app center (That's what Samsung calls it; other makers may call it something else).  Then select Photos app, open Pic Scanner folder within it, and view the photos – either as a slide show, or individually.
Method 2: Transfer the photos from your iPhone or iPad to Mac or PC (See how: go to tip #T6). Now connect your computer to the TV with an HDMI cable to view the photos.
Method 3: You can also stream photos to HDTV through Apple TV, or Android or Roku set-top boxes: