A Treasure Trove of Heirloom Photos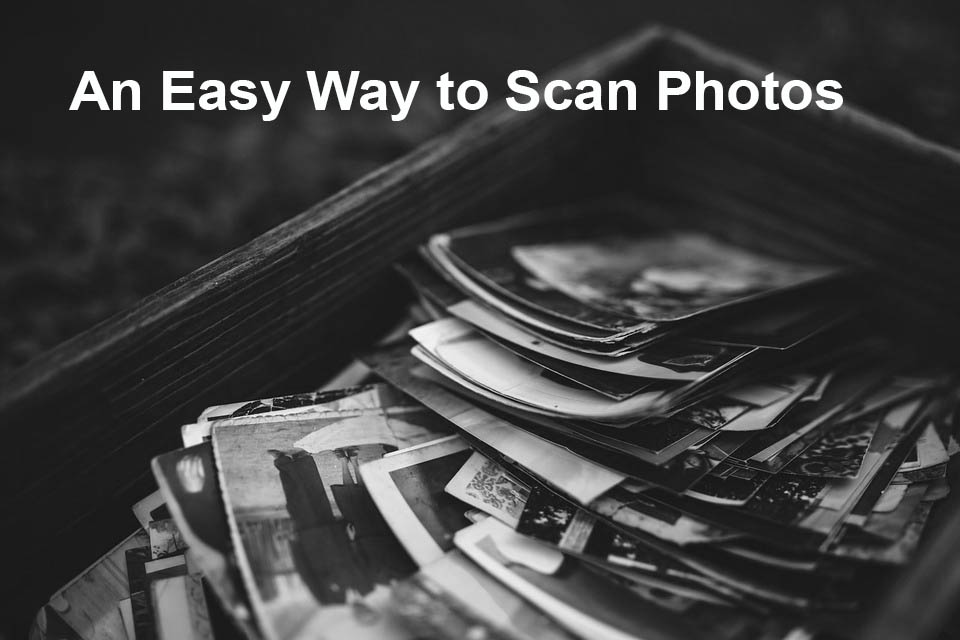 My grandfather's most prized possession was his collection of family photographs…thousands and thousands of them. He and my grandmother raised a big family, and granddad's photo collection documented not just their own and his children's lifetimes, but also of previous generations. When he died in 1966, my mother and her siblings inherited this amazing trove of memories.
For almost 40 years, these heirloom photos remained divided between nine families, and endured a variety of storage conditions. Then, in early 2015, they had a reunion. My oldest uncle, then 88 and researching family history, took on an ambitious project to reunite and digitize all these photos. His vision was to make a combined digital library shared by the entire family.
He started as most people would, with a desktop scanner hooked up to his computer. He would scan a batch, save them on the computer, then get down to cropping and editing them. When the tedium of scanning became too much, he would take a break and rearrange the scans into albums. He didn't have an easy way to add name of people, dates, places etc. to the scanned photos, so he made copious notes in his diary. After a year, less than a quarter of the photos had been scanned.
Make Way, Flatbed Scanner. Hello, Pic Scanner
For his 90th birthday, my uncle got an iPad, and looking through the App Store for genealogy and family history related apps, he stumbled upon Pic Scanner. Suddenly, he could scan four photos at a time. Not have to crop them one at a time. He no longer needed to take photos out of old picture albums, and put them back in after scanning. He could edit, add digital captions and create digital albums with the app. It took him another four months, working at a much gentler pace, to finish the project.
Technology Doesn't Have to be Daunting
Many of us don't have the head for technology. We can't get our heads around all the stuff that comes so naturally to the younger generation. But devices such as the iPhone and iPad have changed things a bit. Until a decade ago, only professional photographers used image filters, edited videos and threw around terms like "post-processing". Then Instagram put funky filters in everyone's hands – and Photos and iMovie gave us the ability to perform all sorts of advanced edits.
Pic Scanner and its advanced version, Pic Scanner Gold are great apps if you have hundreds (or even thousands) of old photos lying forgotten about your home, and you want to scan, preserve and share them. They are extremely intuitive to use – and so inexpensive. Download the app and its user guide (Here for Pic Scanner Gold, and here for Pic Scanner), and you are all set.
Preparation Before You Start Scanning

This short article outlines what to do before starting your conservation project. Basically, the steps are: Assess, Protect, Sort, Start and Store. Assessing and sorting is about scoping out the project and creating a work plan. Protecting is how you store the printed photos. Once you have assessed and sorted your photos, you are ready to scan.
The Smarter, DIY Way to Scan Photos
With Pic Scanner and Pic Scanner Gold, you can scan 3-4 photos with one touch. The apps crop and save them individually. Note that scanning multiple photos is ok for sharing on social media. But when doing it for keeps or reprinting, scan one (or two) at a time. If you scan four at once, each cropped photo will have only one-fourth as many pixels as a one-at-a-time scan. Automatic cropping is the real time-saver, so scanning 1-2 at a time isn't necessarily much slower.
Pic Scanner, launched in 2013, was the world's first mobile app for scanning and auto-cropping multiple photos. Pic Scanner Gold is Pic Scanner on steroids: It capture high resolution scans with relatively small file sizes, and its features are designed specifically for old photos. Notable among these: a nineteen-tool editing suite and the ability to add date, place and other details. It also has great features for organizing and sharing photos, but you can read about them here.
All Scanned? Now Back-up and Organize

Upload scanned photos to your preferred cloud service. Both apps provide links to iCloud, Dropbox and other apps. Uploading to cloud serves two purposes: One, it ensures that your photos stay safe even if your iPhone or iPad is lost or damaged. Two, you can share photos with family members, and invite them to help add the forgotten details.
In old days, people often annotated date, place and other details directly behind photos. Now there is a better, less damaging way to do it: Digital captions. This extra effort ensures that the stories behind every photo are preserved. Use the 'Captions' feature in Pic Scanner and Pic Scanner Gold to save these details, as shown in the example below.
If you have iPhone 6S / iPad Air 2 or a newer device, get Pic Scanner Gold. You will get much higher quality scans and a raft of useful features. It costs $4.99 on the App Store. For older iOS devices, we would recommend our lightweight app Pic Scanner. It costs $1.99 here.