现在,您可以扫描照片,
您的iPhone

或iPad

应用

Pic Scanner

。



珍藏您的珍贵回忆:有了这款应用程式,您就能动动小手将旧照片打印的照片扫描到您的iPhone或者iPad上。您可以同时扫描4张照片,图片浏览器会自动识别剪辑并且保存您的照片。与一张一张地扫描相比,不知道轻松多少。
Pic Scanner: 扫描照片,珍藏您的回忆: 打开 iTunes 以购买和下载 App。
功能繁多,操作却极其简单:
• 轻轻一按,同时扫描多张图片
• 照片魔术般自动裁剪
• 轻松编辑照片:让优秀的照片更出众
• 复古滤镜和,B&W, 棕褐色等等
• 添加图片说明:保存更多带图照片
• 传输到相机胶卷或电脑
• 通过社交媒体,电子邮件,iMessage共享
• 还有更多的功能:现在就来探索吧
随时随地进行扫描。扫描照片无需网络。将旧日的美好时光收藏起来。将过去的美好融合在今天的生活中。
客户推荐理由:
• 节省大量的时间(BBC Click)
• 应得如潮好评(Cult of Mac)
• 最佳40应用(The Guardian)
• 震撼您的大脑(Gould Genealogy)
• 收起桌面扫描仪吧(AppAdvice)
客户的爱:
• 五星: 非常有用,省时
• 6-66岁都能简单上手
• 比单独扫描高效的多
• 有了它,谁还要扫描仪呀?
PicScanner专为iphone,ipad, iPod Touch iOS 8.4及以上版本设计。不推荐iPhone 4s以及更早的版本使用。
Pic Scanner: 扫描照片,珍藏您的回忆: 打开 iTunes 以购买和下载 App。
***
珍藏您的珍貴回憶:有了這款應用程式,您就能非常容易地將舊照片打印的照片掃描到您的iPhone或者iPad上。您可以壹次掃描4張照片,圖片瀏覽器會自動識別剪輯並且保存您的照片。您可以免費掃描12次:您只需壹次性購買即可享受無限掃描分享機會。
功能繁多,操作卻極其簡單:
* 同時掃描多達4張照片
* 照片自動裁剪
* 輕鬆編輯照片
* 添加濾鏡和字幕
* 即時分享照片到:Facebook, Instagram, email, Messages, Google+
* 創建漂亮的數位像片簿
* 瀏覽掃描幻登照片
* 在Dropbox,iPhoto,icloud中將照片存檔
珍藏回憶:不要讓您寶貴的回憶,懷舊的情懷,被遺忘在舊日的影集和抽屜裏。將它們掃描到您的iphone或者ipad的上,這樣您就可以隨時瀏覽分享它們了。
隨時隨地,想掃就掃:掃描時無需聯網。快速簡單。就像袋裏有壹個照片掃描儀一樣。
漢語用戶使用手冊
用戶評論:圖片掃描網已經受到了BBC,南方早報,衛報和許多優秀媒體的稱贊。
該應用專為iphone或ipad iOS9以上用戶設計。不建議iPhone 4S和更舊版本的用戶使用。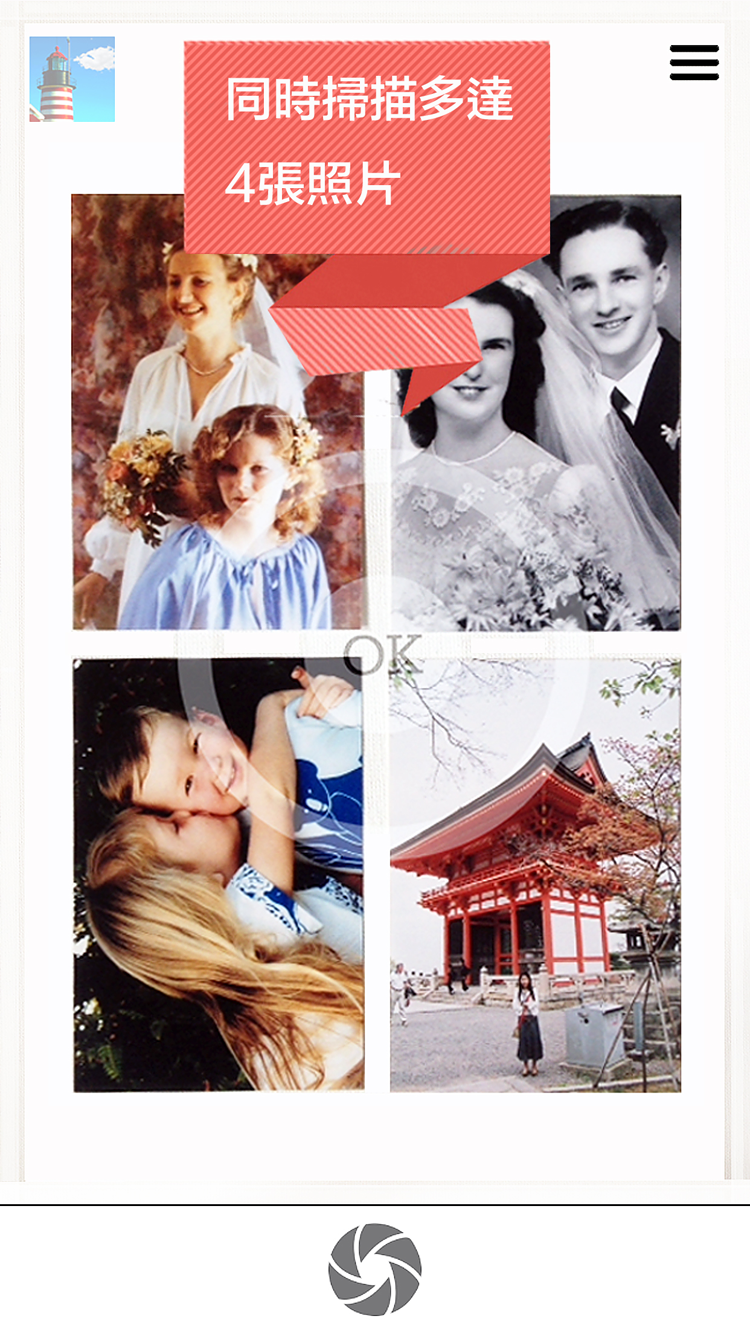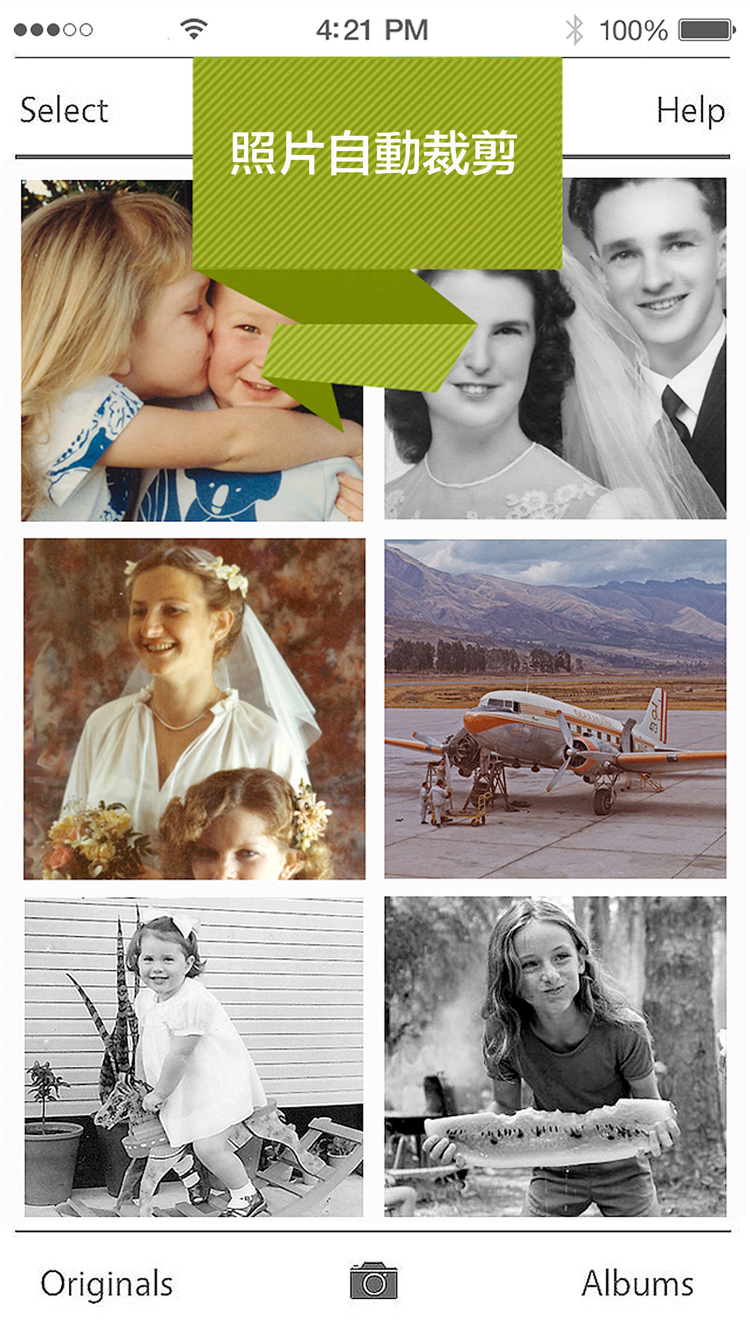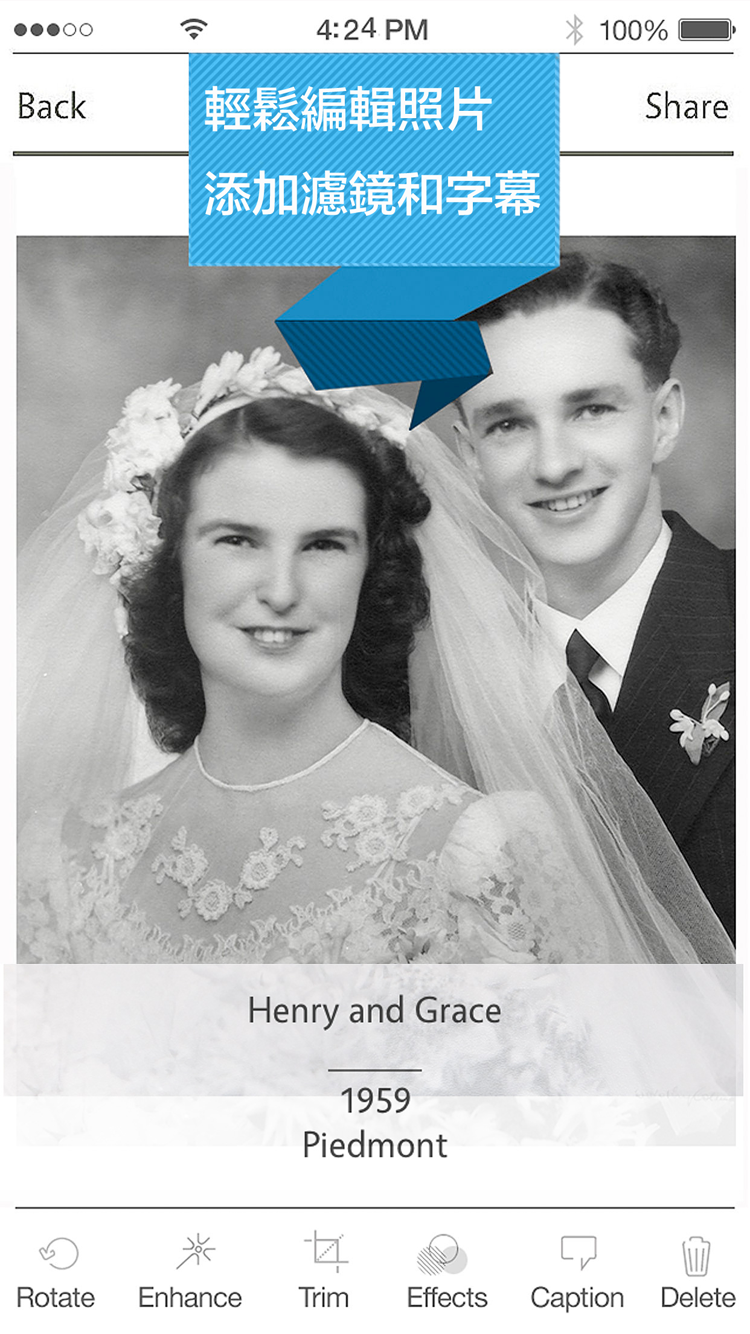 Pic Scanner: 扫描照片,珍藏您的回忆: 打开 iTunes 以购买和下载 App。
Pic Scanner – App for scanning photos with iPhone or iPad
(For English readers)
SCAN PHOTOS WITH iPHONE OR iPAD. Scan 4 photos together. Pic Scanner detects, crops and saves them individually. So much easier, faster than scanning photos one by one.
A PHOTO SCANNER IN YOUR POCKET. So many features, yet so easy to use:
* Scan multiple photos with just one tap
* Fully automatic cropping. Like magic
* Photo editing: Easily enhance your pics
* Automatic perspective correction
* Image filters. B&W, sepia and more
* Captions: Save stories about the photos
* Organize photos in digital picture albums
* Scan albums: Without taking photos out
* Share & save photos freely, conveniently:
– Transfer to computer via Camera Roll
– Post to Facebook, Instagram, WhatsApp, Twitter, Google+
– Share via email, iMessage
– Back-up / archive to Dropbox, iPhoto, iCloud
– Upload to other social media sites via Photos
* View scanned pictures as a slideshow
* Watch on TV: via AppleTV or Roku
Pic Scanner – Download at the App Store
How to scan photos with iPhone or iPad to make photo books or high resolution prints? Easy. Digitize 1-2 pictures at a time. This will give high PPI (pixels per inch) scans. For sharing photos on social media, it's OK to scan 3-4 at a time.
SCAN ANYTIME, ANYWHERE. Pic Scanner needs no Internet to scan photos. Breathe life back into legacy memories. Bring your past into the present, in a snap!