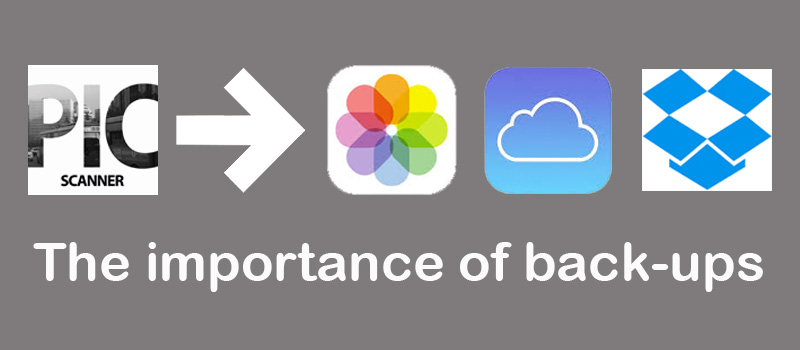 Why archive scanned photos?
Scanning makes photos portable and shareable, but it's only the first step in preserving them. The next, and very important step, is to back them up. iCloud is a great place to archive scanned photos. It will keep your photos safe if your iPhone or iPad is lost or damaged, or you accidentally delete the photos from your device.
It is also important to note that photos saved on Pic Scanner's Cropped and Originals screens, and in the app's albums, are stored within the app and on the device. They are not transferred to an external computer or Dropbox, until you yourself do it. While this gives you full control over your photos and privacy, it also means that making a backup – whether on your computer, an external hard drive, or your preferred cloud service – is vital.
Clean up
Once you've archived the photos, keep only your extra-special photos on your device (whether in Pic Scanner's albums or in Photos), and delete the rest. You should also periodically delete the unneeded "Originals". This will free up space on your iPhone or iPad.
1. Saving photos on your computer or in iCloud

The most convenient way to export photos from Pic Scanner is to save to Photos app. Since this is a "local" transfer (i.e. on your device itself), it's fast. And if you have Photostream/iCloud set up, the photos will also automatically sync to your computer and iCloud. For an orderly transfer, limit the batch size to 15-20 photos at a time. Mobile devices such as iPhone and iPad have limited processing power and RAM, and trying to transfer 30-40 full resolution photos at a time may cause your device to stop responding, or abort the transfer.
You can also archive photos in Dropbox, but since this involves uploading over the internet, it can time time. Also, to avoid getting stuck, you should only upload small batches of 6-8 photos at a time. This can be inconvenient if you need to save a very large number of pictures.
2. Backing up Pic Scanner Data
This is different from the above manual method, in that (a) it happens automatically when you back-up your iPhone or iPad to iTunes or iCloud (b) it backs up cropped and original photos, their thumbnails, albums details as well as captions – in other words, everything you need to restore Pic Scanner on your device if the need arises. However, this will only save data as of the last time you backed up the data to iTunes or iCloud. Any photos that had been deleted from Pic Scanner before the last backup time will not be available for restoring.
To restore photos from backup, first download Pic Scanner (free) from the App Store. This will be the trial version, so first you need to restore your unlimited scanning privileges (Assuming you had the unlimited version of Pic Scanner before). Launch Pic Scanner, tap Menu > Buy unlimited > Restore purchase. You will be upgraded to the unlimited version. It won't yet have the old photos, so the next step is to restore them.
Connect your iPhone or iPad to your computer with USB cable. In iTunes, select your device, and click on Summary tab underneath. In the right pane, look for Backups, and click Restore backup. You may be prompted to turn off Find My iPhone/iPad, then just follow the on-screen commands to restore your device.
Have questions? Email us!