I sometimes wonder whether the idea of family trees comes from us descending from apes descending from trees. Luckily, most family trees go back only a few generations, and making those is hard enough. The longest family tree in the world, according to Wikipedia, is that of the Chinese philosopher Confucius (551–479 BC), a descendant of King Tang (1675–1646 BC). This tree spans some 80 generations, and includes more than 2 million members.
If you haven't ever made your family tree, try it. It's a lot of fun. Start with your siblings, parents and grandparents' names, birth, marriage and death dates.
It gets harder as you progress to older generations. Older relatives may have information about ancestors. See if anyone else had made a family tree earlier, and collaborate. Online resources such as Ancestry, FamilySearch, RootsChat, MyHeritage, FindMyPast and census records contain valuable clues. Parish records and obituaries also offer reliable information. Marriages, divorces, remarriages and adoptions add complexity in family trees.
Once you have the basic outline going back a few generations, comes the fun part. Use one of the many online family tree maker tools to convert your data into a graphical representation. Share it with relatives, asking them to add other details and chip in with photographs. Set up a family photos folder on Flickr, Picasa, Dropbox or any such website, where family members can share scanned photos. Scanning old photos is incredibly easy and fast with Pic Scanner app for iPhone and iPad. Digitizing not only helps preserve those one-of-a-kind, heirloom photos, it also makes them shareable.
After scanning, you may want to give all the photos a uniform look. This is done easily by using filters. Pic Scanner has a small but useful set of retro-themed filters: B&W, sepia, montage, vignette etc. Also, crop, adjust sizes and aspect ratios if you wish – then print.
What do you do once you have your family tree and a folder full of scanned, sharable photos?
If you want to make a pictorial family tree wall, the easy way is to buy a self-adhesive tree (or branches and leaves) decal. Search on Amazon and Etsy – both offer plenty of designs.
You could also make family history books, personalized greeting cards for special occasions, family tree posters. Or try craft projects and activities for family gatherings (Our Facebook and Pinterest pages have lots of ideas and tutorials.)
Here's an example of something you could make quite easily: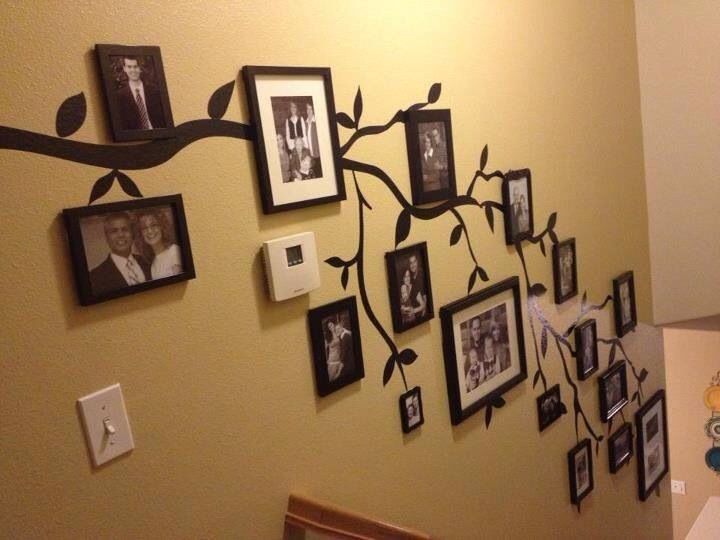 And here's a century-old example of a family tree gone nuts: