Pic Scanner Gold App for iOS Restores & Preserves Memories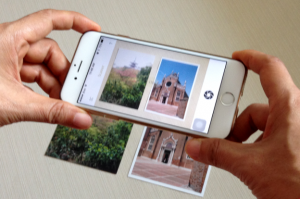 What is Pic Scanner Gold?
Photography went digital at the turn of the 21st century, but most of us still have printed photos stashed somewhere around our homes. Scanning photos isn't the most exciting way to spend the weekend; so these precious mementos of our past stay tucked away – out of sight, out of mind.
Is there an app for it?
You bet there is! More than one, in fact. Read this review from thebiggbuzzblog.com to learn more.
Bottom line? "The newest, and arguably the most interesting addition to this category, is Pic Scanner Gold." says, thebigbuzzblog.com
iPhone app gives treasured photos new life [Review]
The influential iOS and Apple blog Cult of Mac reviews Pic Scanner Gold – and loves it!
"Pic Scanner started to win me over to the idea that you could make a viable copy of an old photograph with your smartphone when I reviewed it along with two other scanner apps for Cult of Mac in 2014."
Fast forward to 2016, and "What's new is the Gold in the name, which goes to the value of the features that have been added since App Initio Ltd introduced the app's predecessor."
Read the full review here.