It's easy. You could scan a hundred photos in 15 minutes, right out of an album or shoe box.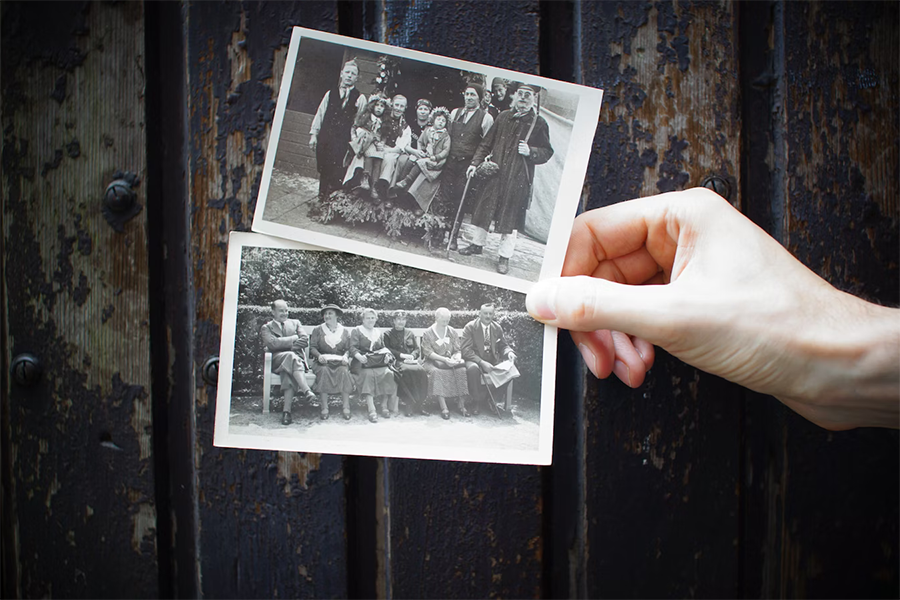 If you have a stack of albums or shoe boxes full of old family photos, you really must consider scanning them. There are a few good reasons for this:
Photo prints will turn yellow or develop color casts over time. Loose photos will curl. Worse things can also happen – like floods or fire. Those photos are irreplaceable – once lost, they're gone forever.
Old photo prints may be one of a kind. You may have rare photos that your family or friends want, and they may have photos that you want. Scanning makes them sharable and you can also make reprints.
Scanning preserves photos, and you can enjoy them in more ways, e.g. viewing as a slideshow on your iPad, TV, or a digital photo frame.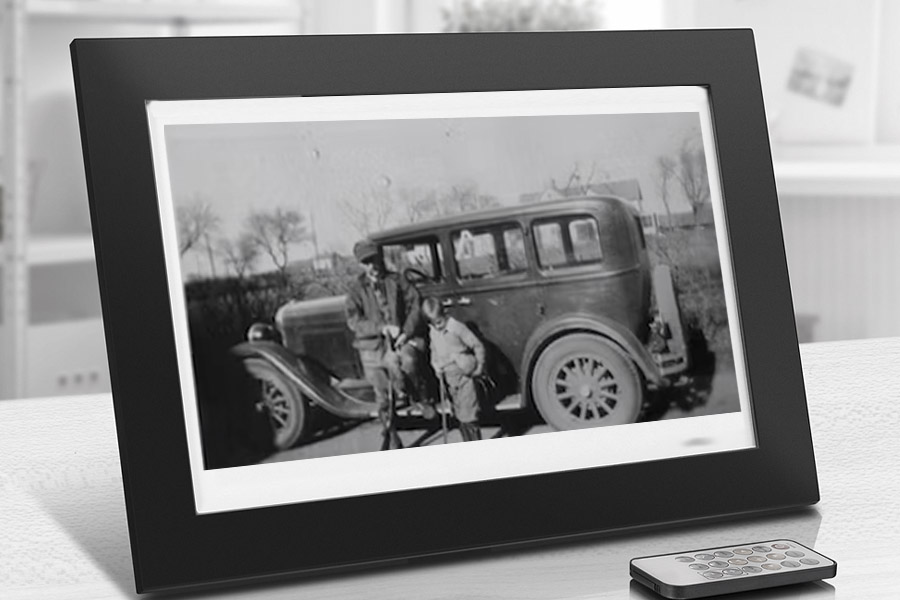 Scanning photos is easier than you think
Chances are that you have albums or photos you haven't digitized because you lack time, a scanner, or the technical skills. Don't worry, it's easy and fast. You don't need an expensive scanner or the skill to hook it up and use it. All you need is an iPhone or iPad, and Pic Scanner Gold app.
Can an app capture high resolution scans?
Yes! Current iPhone models have 48-megapixel, and the older iPhone and iPad models 12-MP cameras. Both can capture high-quality scans – good enough for enjoying and making decent-sized reprints.
Using your iPhone or iPad as a photo scanner offers many advantages over a desktop scanner:
You already have the iPhone, and know how to take photos with it. The learning curve is shorter.
Your phone is always with you, so you can scan anywhere. If you're visiting an aunt who has old photos that you don't, you can scan them then and there.
You don't need to spend $100-400 on a desktop scanner, rig it up to your computer, and have another piece of hardware cluttering your house when you're done.
Pic Scanner Gold is inexpensive, gives great scans, and has other features that desktop scanners don't.
How to choose the right scanner app
Several photo scanner apps are available on the iOS App Store. The decision factors in choosing the right one include scan quality, ease of use, speed, privacy, extra features (such as editing tools, the ability to create albums, and easily export or share the scans), and – of course – pricing.
Scan quality: This depends on your iPhone or iPad's camera (12- or 48-megapixel, as noted above) and how you scan. Follow the easy scanning tips from Pic Scanner Gold's in-app user guide, and you can get excellent, high resolution scans.
Ease of use: Scanning with Pic Scanner Gold is exactly like clicking a picture with the iOS Camera app. Hold the camera centered over the picture, if necessary tap the screen to focus, and click. The app will automatically crop and save the photos in its Gallery.
Speed of scanning: With Pic Scanner Gold, you can scan multiple photos or a whole album page at a time. This speeds up scanning. However, in order to get higher resolution, we recommend scanning one or two photos at a time. Auto-cropping will still save you loads of time.
Privacy of photos: Many apps save the scans on your device as well as their server. While this lets you access the scans on all your devices and provides a backup, it also means storing your personal photos into their server. Pic Scanner Gold does all processing and saving locally, on your device. This assures you of complete privacy. Backing up the scans on a computer, flash drive or cloud storage, or syncing them from iPhone to iPad or vice versa is very fast and easy.
Bonus features in Pic Scanner
Pic Scanner Gold has some exclusive features that desktop scanners can't match:
Captions and metadata: Pic Scanner Gold lets you add dates, locations and descriptions to photos – a bit like making digital annotations. The app also adds these details to image metadata. This ensures that the details "travel" with the photos even when you export them or transfer to another device.
Shareable slideshows: You can make a compact slideshow of up to 50 photos that can be easily shared via social media or even email. This is handy when you want to share a lot of photos.
Greeting cards and calendars: Pic Scanner Gold can convert scans or photos imported from your Photos library into shareable greeting cards and printable calendars.
Price of the app: The price of iOS photo scanner apps ranges from free to $70. Some apps also have subscription plans costing up to $20 per month. Pic Scanner Gold costs $7.99. This upfront, one-time cost covers unlimited use of all features and future upgrades. No further in-app purchases or subscriptions are needed, and there are no other hidden costs.
What more can you do after scanning?
Review and edit photos: Pic Scanner Gold includes all the editing tools you'll need to make your photos pop. Refer to this brief guide on what those tools do and how to use them correctly.
Correct the dates: If you scan a 1960s photo in 2023, its metadata will show the 2023 date. As a result, the photo won't appear in the correct chronological order in any photo app. Pic Scanner Gold lets you amend the metadata to actual dates, to fix this problem.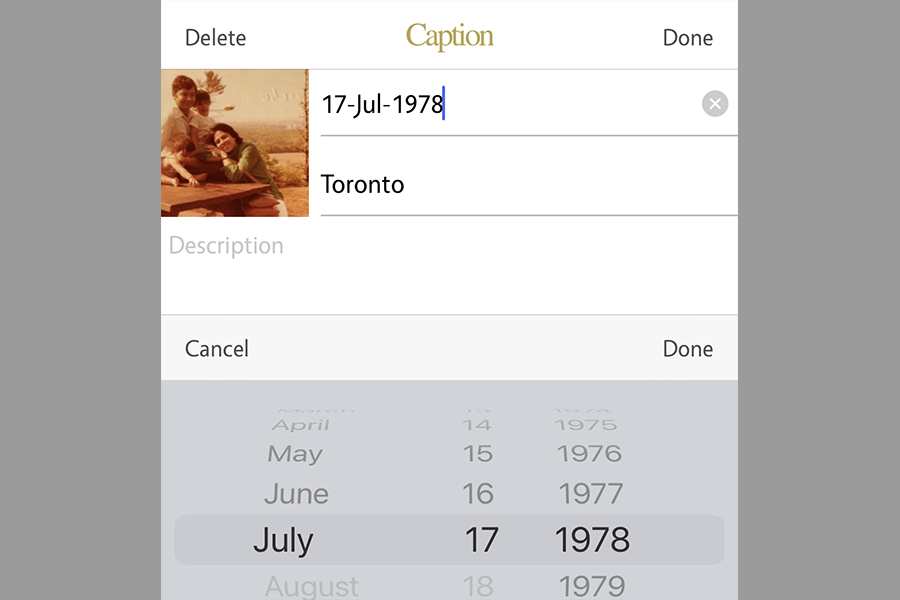 Add descriptions and locations: In old times, people scribbled notes behind photos – who, what, where etc. You can now add all this information into the photos – either invisibly (as metadata) or visibly (as captions).
Make backups: This is very important, to ensure that your photos stay safe even if your device gets lost or you accidentally delete the scans. Pic Scanner Gold lets you easily back up photos and albums to your Mac, external hard drive, or any free cloud storage service such as Dropbox, Google Drive etc.
Share memories with family: There's no better, easier way to spread love than to remind loved ones of the cherished times you've spent together.
What to do with printed photos once they're scanned?
Well, definitely don't toss them. Seeing old photo albums, being able to touch the photos, is absolutely wonderful. Much more nostalgic than browsing photos on the phone. Scanning and putting them on your phone, computer or in cloud storage preserves and makes them easy to access, but photos that were printed decades ago are your true link with the past. Well worth cherishing and preserving.
The best way to preserve old photos is to shield them from elements – light and moisture. Acid-free archival boxes are ideal for this. Sort them by year (or decade) and bundle them for storage.
If you are short of space and can't keep all hard-copy photos, keep at least those the most meaningful, precious ones. Offer the rest to others in your family who feature in them and might want them.