Got a new iPhone or iPad, but have hundreds of scanned photos in Pic Scanner app on your old device? Want to transfer photos, along with albums and captions to your new toy? Piece of cake!
Here's How To Transfer Photos

The directions below say iPhone, but they also apply to iPad.
A) Ensure that you have the latest version of Pic Scanner on the old phone. Also the latest version of iTunes on your Mac or PC. If not, update.
B) Create a folder named Pic Scanner Temp on your computer's desktop.
C) Connect old iPhone to computer via USB cable. Launch iTunes on computer, and select your iPhone [See (1) below]. Check that Summary pane is selected in left column. In Backups on right side, select This Computer, then Back up now [See (2) and (3)]. When done, Latest backup time below Backup Now button will be updated to current time.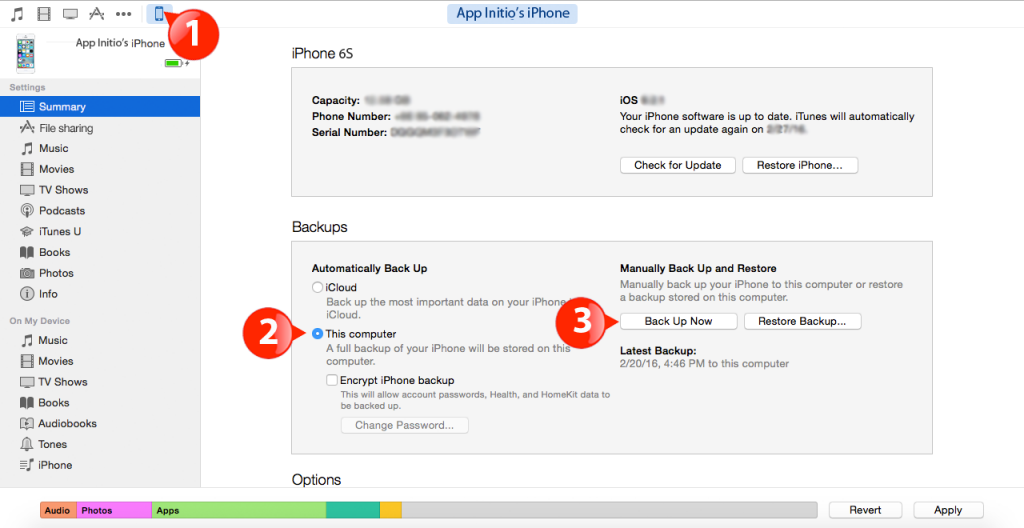 D) With the old iPhone still connected to computer, click File  Sharing in iTunes sidebar on the left [(4) below]. The right pane will show all the apps whose data is backed up (5). Locate and click Pic Scanner (6). Further right side will show some folders and files e.g. original_images, splitted_images, etc. Select all, and drag them into Pic Scanner Temp folder on desktop. This will transfer photos, albums etc. to your computer.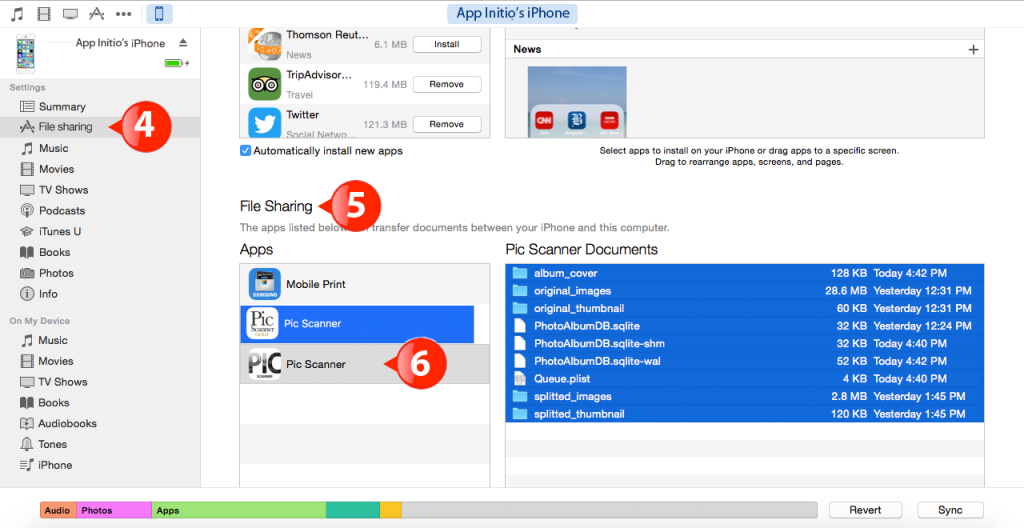 E) In Pic Scanner Temp, click on splitted_images folder. Check that your photos are in it, then return to iTunes and click Eject near top left to disconnect the old iPhone from the computer.
F) On the new iPhone, download Pic Scanner (free) from the App Store. Launch Pic Scanner, tap Menu > Buy unlimited > Restore purchase. You will be upgraded to the unlimited version. It won't yet have the old photos, so let us now restore them.
G) Connect new iPhone to the computer with USB cable. In iTunes, select your new phone, click Apps in left sidebar, then scroll down the right pane to File Sharing. Click Pic Scanner. The right side will show some folders, but they will all be empty (zero KB)
H) Select all folders and files in Pic Scanner Temp folder on the computer. Drag and drop them alongside the empty folders in iTunes File Sharing window (Care: Don't drag Pic Scanner Temp folder into iTunes: only the files and folders within it.) In the warning pop-up box [See (7) below], check mark the Apply to all box, and click Replace.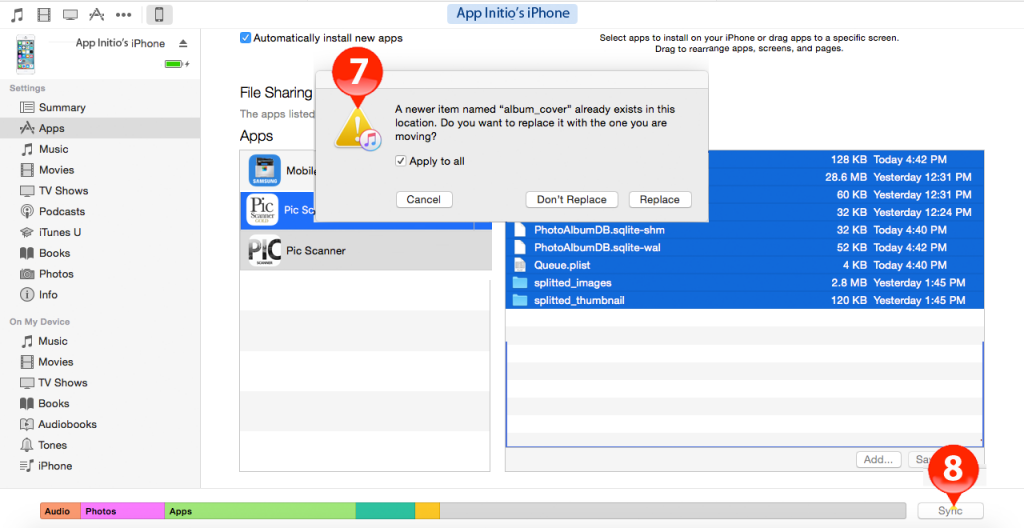 I) Click the Sync button (8).
Voila! You are done. Go into Pic Scanner on your new iPhone and tap the lighthouse thumbnail on top left. Enjoy your photos!
Any problems, drop us a line.