Scan photos? But scanning is such a pain!
So you found a box of old family photos, and everyone wants copies? Or your basement is full of shoe boxes and picture albums with photographs accumulated over several decades? Or you need to make a slideshow for a wedding or a family reunion, but all old time photos are in old-fashioned, not digital albums?
Most of us have hundreds, if not thousands, of printed photos lying about. Most of us would love to have them in digital form – in an iPhone or iPad. Portable, shareable, backed up in "the cloud", safe from the elements. But most of us never get down to doing it, because the conventional methods are either too tedious, or too expensive.
Enter iPhone, iPad. And Pic Scanner app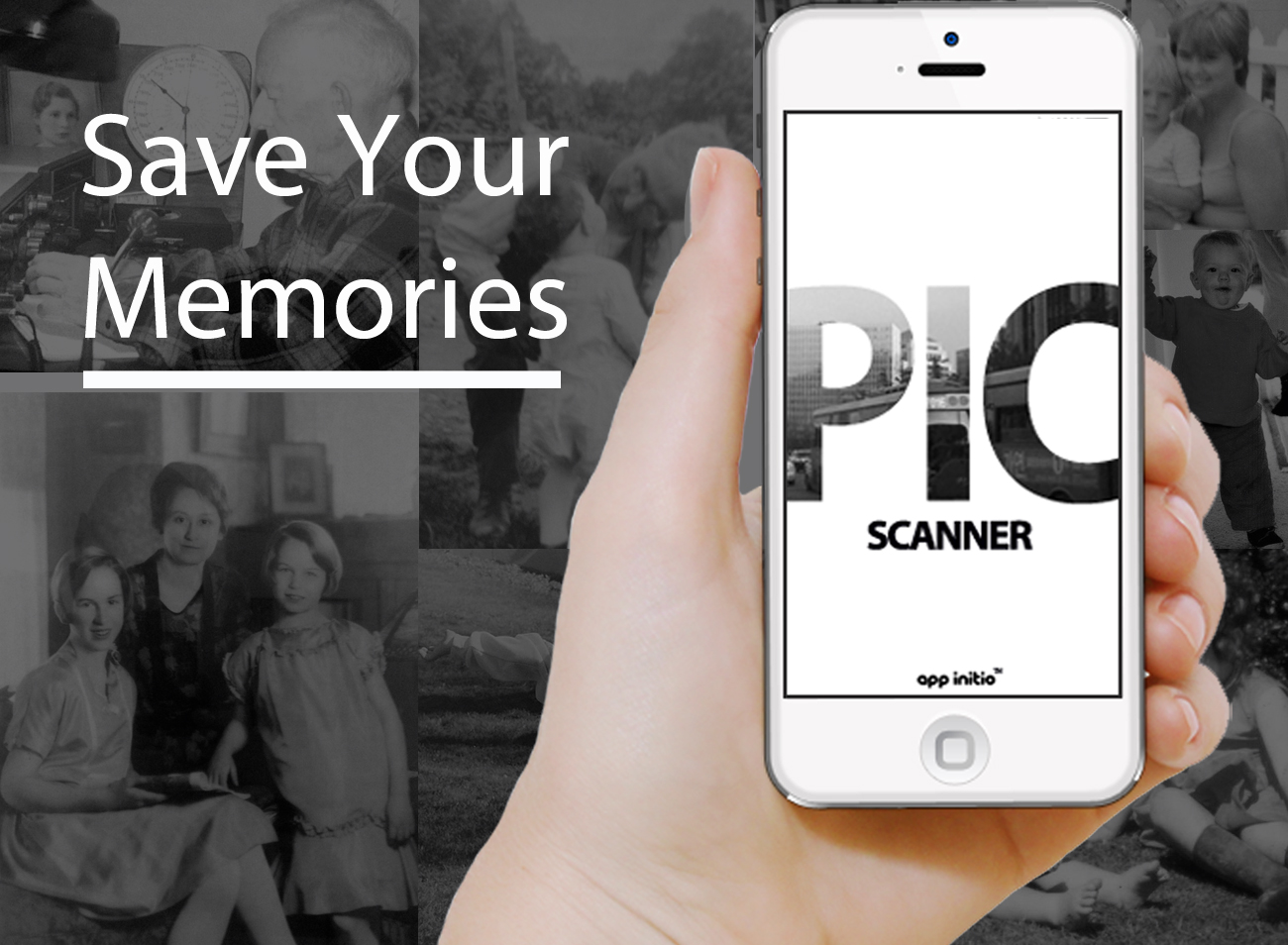 Pic Scanner is an app for iOS that lets you scan photos – up to four at a time. It then intelligently detects, automatically crops and enhances, and individually saves all the photos. All with just one tap on your iPhone or iPad. That's a lot easier, faster than scanning one by one on a desk scanner, then transferring to computer and painstakingly cropping and organizing them.
Like having a photo scanner in your pocket
iPhone 6S and 6S Plus have 12 megapixel cameras. Older iPhones and most iPads have 8 MP cameras. Pic Scanner app turns this great camera into a powerful pocket scanner that's always there when you need it. In your pocket (uh, in your palm if it's an iPad:)
As BBC's flagship personal tech program Click noted back in 2013, Pic Scanner is "packed with great tools…that should save you a lot of time". Well, the app has come a long way since then. It's been given a beautiful, minimalist design and lots of new features.
Here's what Pic Scanner offers:
* Scan multiple photos with one tap
* Fully automatic, accurate cropping
* Quick-editing, no-fuss toolkit
* Automatic perspective correction
* Retro filters. B&W, sepia and more
* Add captions to save the stories
* In-app albums to organize photos
* Ability to scan albums, a page at a time
The screenshots below show some of these features:
A major advantage of Pic Scanner is that your photos remain yours. All processing and saving occurs on your iPhone or iPad, and you aren't obliged to upload photos on some remote third-server – So privacy is assured. Also, you aren't forced to keep scanned photos within the app: you can freely share them via email, Facebook, Instagram, WhatsApp, Twitter, Google+ or iMessage. Or save to Photos / Camera roll on your iPhone/iPad – from where you can transfer them to a computer and iCloud. All of these gateways are built into Pic Scanner.
Pic Scanner also gives you the freedom to bulk save photos to computer and (via Photos app) to other cloud services e.g. Google Photos, Box, Flickr etc. So you can archive any number of photos without paying recurring cloud fees or filling up your iPhone/iPad's storage.
The app comes with great customer service, too. Troubleshooting help can be found here, and if you can't find the answer to your question here, email support.
Scan photos any time, anywhere
Pic Scanner needs no Internet to scan photos. So if you find yourself visiting an aged relative who has a treasure trove of old photos but no scanner and no internet, you can still scan. It's the perfect tool for breathing life back into legacy memories. You can bring your past into the present, literally in a snap!
Great! Er, how much does it cost?
You can download the full-featured version of Pic Scanner free from Apple's App Store. This trial version allows 12 free scans and 12 opportunities to share photos. Once you have tried it out and practiced a bit, you can buy the unlimited version with a one-time $2.99 in-app purchase. That's it. No hidden charges, no recurring costs.
Go on, download it now. If you know someone who might benefit from this app, share this post with them. Memories are priceless. Pic Scanner is great value.