"Breathe life back into old photos" is a tired phrase, but wait until you experience the magic of editing photos with Pic Scanner Gold.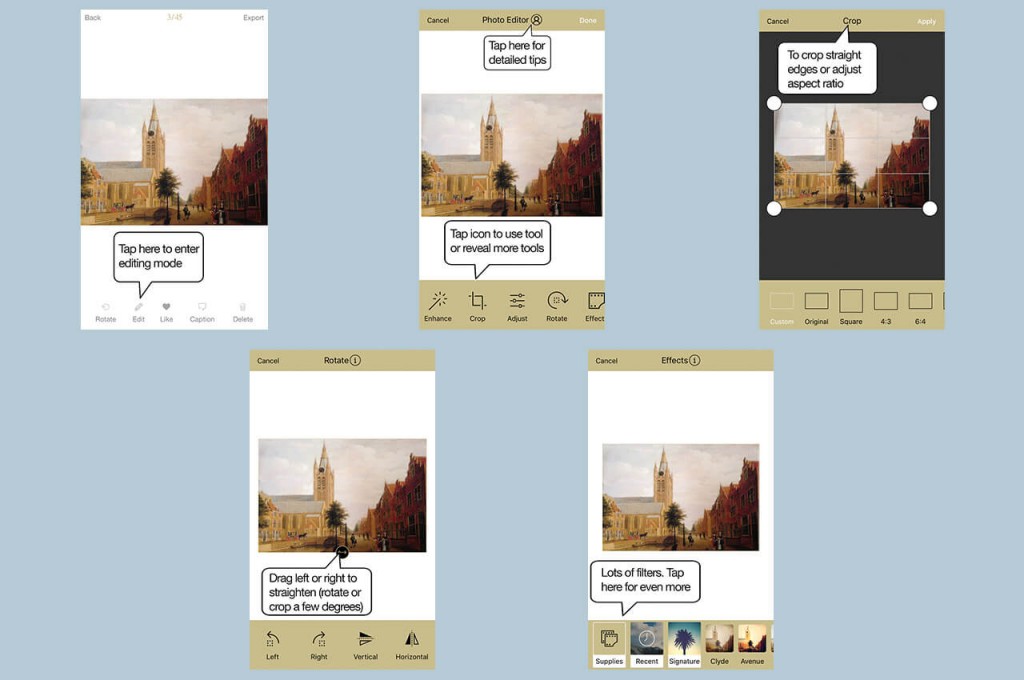 Pic Scanner Gold includes one of the best photo editing tool kits to be found in iOS Photo apps. You can use it for editing scanned photos, as well as those imported from Photos app or the old Pic Scanner. Lots of tools to restore, enhance and embellish your treasured photographs.
Make great scans gorgeous
If you scan photos in accordance with our tips for high resolution scanning, you'll get great scans – and you may not feel the need for any further retouching. But experiment a bit with some of these tools, and you will be rewarded with beautiful results.
These tools are intuitive enough, but if you need a ready reference, here is a quick guide.
Editing photos with Pic Scanner Gold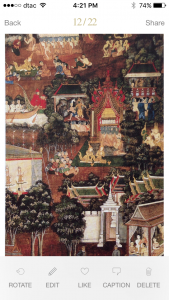 Edit button is located in the bottom navigation bar of 'Review & Edit' screen. This toolbar also has the following functions:
Rotate: Each tap rotates the photo by 90 degrees.
Like: Adds photos to the auto-created Favorites album.
Caption: Lets you add or amend when, where, who information.
Delete: Deletes the photo from Gallery as well as albums.
To start editing photos with Pic Scanner Gold, tap Edit button.
The current photo opens in the Editor. Scroll the bottom navigation bar to see the top-level tools. More tools can be accessed by tapping these buttons.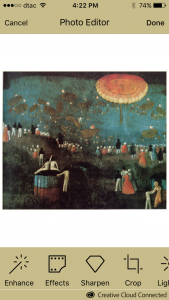 The top level tools are:
Enhance: For one-touch optimization of photos, with 5 preset modes: High-definition, Landscape, Portrait and 2 more
Crop: Trim your photo to any aspect ratio: preset or custom. Use it to improve composition and visual impact.
Lighting: The original photo was too dark? You didn't scan in good light? Use this tool to adjust brightness, contrast, highlights and shadows.
Rotate: Rotate photo left or right (90 degrees at each tap), flip vertical or horizontal, or straighten photos. To use Straighten tool, press the double-sided arrow icon at bottom center of the photo, and drag it  a wee bit to the left or right. Used most often to level the horizon in photos, it can also be used to give an interesting, artistic slant to a photo.
Effects: Lots of amazing filters. See your photos in a completely different light!
Color: This useful tool lets you adjust the saturation, warmth, tint and fade levels. It can be quite useful for old photos that are discolored or have unwanted color casts.
Sharpen: This tool is best used AFTER you finish editing a photo, as the final step in the editing process. This is a tool where less is more. Do not over-sharpen!
Frames: Photos looking too plain? Add a funky digital frame to make it Instagram-ready.
Overlays: Want to make your photo in circular, diamond or grid shape? Use this tool. The shapes are a bit limiting and could be improved, but hey! It's not bad.
Text: This one is really cool: Overlay text on photos. Type in the text box, tap Done, then drag the text anywhere, reorient or resize it. Change font or color. Fun!
Meme: Add fun blurbs to pictures, on top and bottom, for sharing.
Focus and blur: Linear and radial focus modes. Ability to

blur out lines/wrinkles and subtly soften edges.
Vignette: Give photos a vintage look. As much or as little as you want.
Blemish removal (for old stains or dirt marks)
Splash: Selectively recolor your photos. Addictive! See an example here.
Draw: Select drawing tool and color, and use your fingertip to draw on the photo.
The best way to learn about editing photos with Pic Scanner Gold is to dive straight in, try out each tool, and save changes when happy with the results. Enjoy!
Don't yet have Pic Scanner Gold? Read all about it here, then download it here. If you are an existing Pic Scanner user, you can transfer all cropped photos, albums and captions to Pic Scanner Gold in less than two minutes!