Smartphones have democratized photo editing. Twenty years ago, only pros and geeks edited photos, using dark room equipment and software costing thousands of dollars. Now, we do it with free apps. Instagram taught us to indiscriminately apply filters to everything in our camera rolls. Aviary gave us a battery of easy-to-use editing tools. Snapchat, Prisma and dozens of face morph apps use augmented reality, neural networks and AI to transform our ordinary photos into quirky or artistic gems.
Look past gimmicky and juvenile apps, because there are some great editing tools out there. You probably use a few already, such as brightness, contrast, vibrance, highlights and shadows. But do you know exactly what these tools do, and when to use which?
Let us look at Adobe's image editor, which includes a comprehensive set of photo editing tools (It powers many app, including the photo scanner app, Pic Scanner Gold, from which we have taken the following screen shots). Even if you aren't yet a Pic Scanner user, read on: because you'll also find similar tools (usually a subset of these) in many other photo apps.

Why scan and edit old photos?
Holding a printed photo in your hands gives a much warm-fuzzier feeling than seeing them on iPhone. But prints fade over time, colors change, and details blur. Digitizing is necessary for preserving photos. It also makes them portable and easily shareable.
If your old photos are discolored, or have smudges, dust marks or color casts, a bit of editing can restore their original look.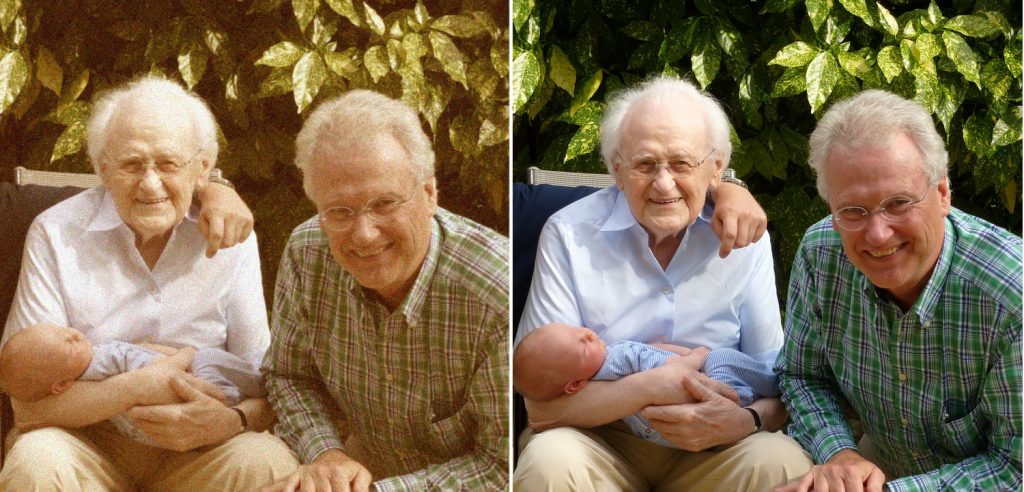 Note that this article does not cover metadata editing. Metadata is also very important, especially for scanned photos. To learn how to view and edit metadata, read this article.
Editing photos with Pic Scanner Gold
A word to Pic Scanner Gold users: With our scanning tips, you'll anyway get good scans. The app auto-enhances scans, and you may not feel the need for retouching. But experiment with some of the app's tools, and you'll be rewarded with beautiful results.
You can use the app's editing suite for scanned photos as well as those imported from camera roll.
Review & Edit screen
Go to Gallery screen and tap on a photo's thumbnail. This opens the photo on Review & Edit screen.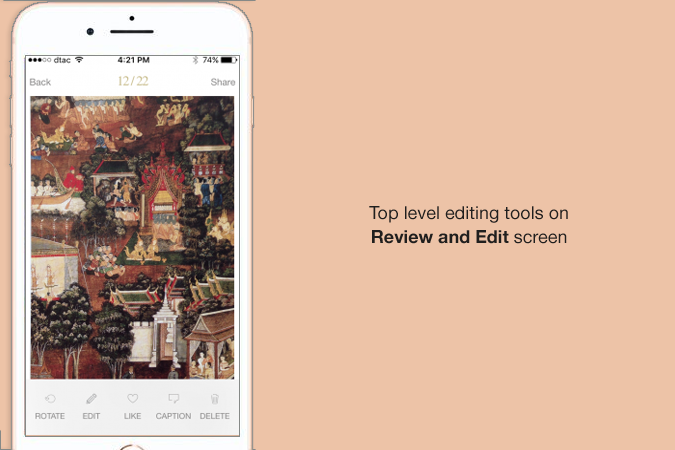 The navigation bar at the bottom of the screen has the following basic functions:
Rotate: Each tap rotates the photo by 90 degrees.
Edit: Launches the advanced tools. See below.
Like: Adds photos to an auto-created Favorites album.
Caption: Lets you add or amend when, where, who information.
Delete: Deletes the photo from Gallery as well as albums.
Launch the image editor
To start editing photos, tap Edit button on Review & Edit screen. The current photo opens in the image editor. Scroll the bottom navigation bar to see the top-level tools. More tools can be accessed by tapping these buttons. After you have applied a correction, tap Apply. This shows you how the photo will look with your edit. You can still cancel the edit or go back and edit more. Once you are happy with the changes, tap Done. This permanently replaces the previous version with the edited one.
Quick and essential tools
Enhance: For one-touch optimization of photos, with five preset modes. Each mode applies a preset combination of settings. If one of these does the job for you, that's all you need.
Crop: Trim photo to any aspect ratio: preset or custom. Use it to improve composition and visual impact.
Rotate and straighten: Rotate photo left or right (90 degrees at each tap), flip vertical or horizontal, or straighten photos. To use Straighten tool, press the double-sided arrow at bottom center of the photo, and drag it  a wee bit to the left or right. Used mainly to level the horizon in photos, it can also be used to give an interesting, artistic slant to a photo.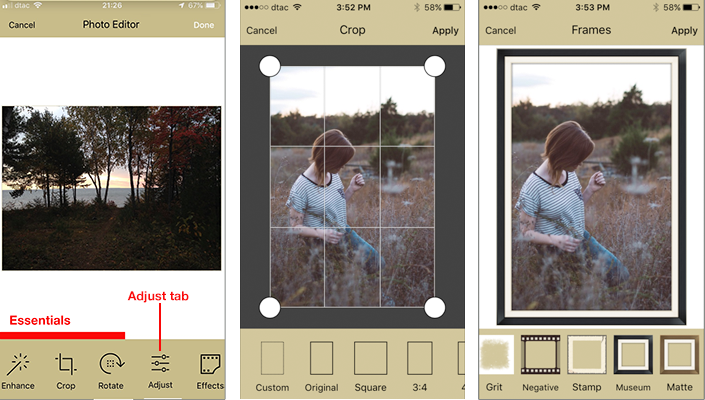 Tools in Adjust tab
Most of these functions are interrelated. Adjust one or two, maximum three. Don't tweak everything.
Brightness: This control uniformly changes all the colors, from extremely light (white) to extremely dark (black). Use this to make the overall picture lighter or darker, not to brighten or darken selective areas.
Exposure: This is related to the amount of light used in capturing the image. Less light than needed, the photo will be dark or underexposed. Excess light, the other way round. This tool compensates for too much/too little light, but use it carefully: excessive adjustment will add noise to the image.
Contrast: This is the difference between light and dark areas of the photo. Increasing contrast makes the light areas lighter and dark areas darker – making details more obvious. Decreasing contrast will reduce the difference. Apply in moderation.
Warmth: Increasing warmth boosts orange tones; decreasing it boosts blue tones. You get the idea.
Saturation: Color intensity and purity. If a photo looks dull, a slight saturation boost will improve it. This adjustment changes the intensity of all the colors equally, so use for old photos where all the colors have faded equally. Use sparingly, especially on portraits or people photos – excess saturation imparts an unnatural red hue to skin.
Vibrance: Akin to saturation, yet different. Increasing it will increase the saturation of less-saturated colors more than the colors that are already saturated. It also prevents skin tones from becoming over saturated.
Shadows / Highlights: These are used to brighten the dark areas of a picture and darken the bright areas. If you've got a photo in which the subjects' faces are dark but everything else is OK, you can improve the photo by using Shadows (not Brightness) tool. And if your photo is OK in all other respects but the clouds in the sky look washed out, use Highlights adjustment.
Fade / Tint: "Fade" softens the colors to create an old photo effect. "Tint" adds a hue: Use the slider to change the hues.
Other post-processing tools
Focus and blur: Linear and radial focus modes. Ability to

blur out lines/wrinkles and subtly soften edges.
Blemish removal for stains or dirt marks: Select the correcting circle size and tap repeatedly at the blemish. This tool samples the pixels all round where you tap, and filling the circle with the interpolated color. It's not perfect, but works.
Sharpen: This tool increases the contrast between dark and light pixels at the edges of objects in a picture. Use it AFTER you finish editing a photo, as the final step in the editing process. Again: less is more. Do not over-sharpen!
Photo primping tools
Effects: Lots of amazing filters. See your photos in a completely different light!
Frames: Photos looking too plain? Add a funky digital frame to make it Instagram-ready.
Overlays: Want to make your photo in circular, diamond or grid shape? Use this tool. The shapes are a bit limiting and could be improved, but hey! It's not bad.
Text: This one is really cool: Overlay text on photos. Type in the text box, tap Done, then drag the text anywhere, reorient or resize it. Change font or color. Fun!
Meme: Add fun blurbs to pictures, on top and bottom, for sharing.
Vignette: Give photos a vintage look. As much or as little as you want.
Splash: Selectively recolor your photos. Addictive! See an example here.
Draw: Select drawing tool and color, and use your fingertip to draw on the photo.

A more detailed version of this articles, with more illustrations, can be found here.
Experiment and enjoy
The best way to learn about editing photos is to dive straight in, try out each tool, and save changes when happy with the results. Enjoy!
Don't yet have Pic Scanner Gold? Read all about it here, then download it here. If you are an existing Pic Scanner user, you can transfer all cropped photos, albums and captions to Pic Scanner Gold in less than two minutes!